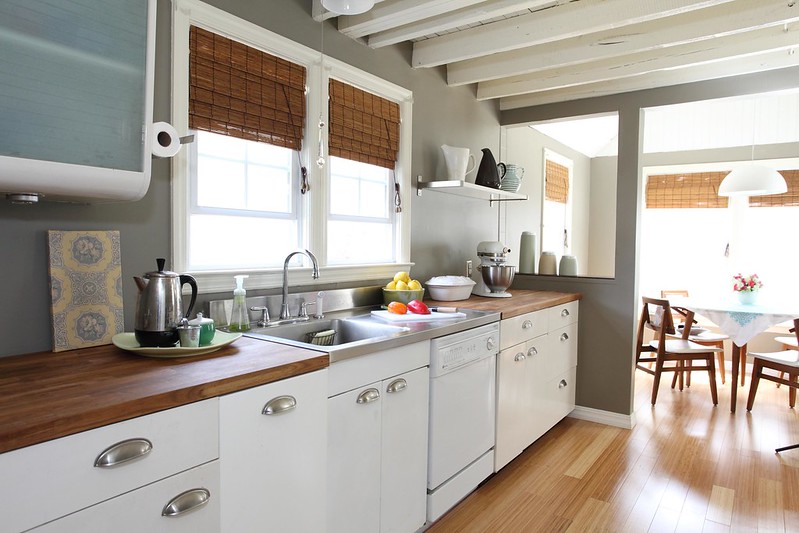 Vintage kitchen design is becoming increasingly popular. It is easy to understand why. It is homely, warm, and nostalgic. These are all things that are very appealing to people while we have been spending so much time at home. Therefore, if having a vintage kitchen is something that sounds interesting to you, how do you approach it? It isn't just a matter of replicating a room from a 1975 magazine page. You will also want to have modern convenience and functionality. Vintage styles work their best when they give anode to a different era while also working within a concept that is balanced. That is why kitchen designs often follow either a retro kitchen or rustic kitchen concept. However, what do they involve and how can you achieve that look?
Rustic Kitchen
A broad range of different styles is covered by this design concept. From French farmhouses to English country cottages, there is a different finished aesthetic, but there are common features that are shared. So if rustic is something that appeals to you, we want to point out the following key concepts and features.
Key Features
All styles of rustic kitchens have a common element of visibility. House accessories, wide stone worktops, and open shelving are all key to being able to achieve this look. It is great to have glazed cabinet fronts for display purposes without items collecting dust. The underlying concept for the room should be details and layers. So look for texture on worktops and detailing in cabinetry.
Layout
Traditionally, farmhouse kitchens are open and large. The big farm table is being replaced by a broad kitchen island, which brings added storage and convenience. You can add seating to give your kitchen island an old-style table feeling. A more cosy layout is needed by smaller kitchen spaces that use the floor area and room height. Any size space can benefit from a combination of fitted and free-standing units to provide the feeling of a room that is naturally evolving.
Materials
For all rustic looks, soft furnishings are essential for making it feel well lived in and softening up the space. Natural materials like granite and wood can sit next to each other to provide the room with simple elegance. The contrast that is created by wood furnishings being placed next to granite worktops, like those available from Zen Stone, creates texture levels that are the foundation of a great rustic kitchen design.
Colours
The go-to palette for all rustic designs is muted natural colours. Neutral tones and creams are earthy, while a more whimsical look is provided by pastels. Rustic designs benefit from flooring and worktop colours. Therefore, pale wood floorboards look great with beige marble or grey/white granite surfaces.
Detail
In order to work properly, rustic aesthetics need plenty of detail. Spend time on finding authentic vintage items to use in your new rustic kitchen. A good starting point is to display crockery. Choosing trays, jugs, and baskets are great worktop storage solutions. The rustic country style is highlighted by this functionality that is on display. Finish your look by adding in personal touches.
Utilities
Having a rustic design doesn't mean you have to go without modern conveniences. Carefully select which utilities you should integrate and which ones you should idea and embrace the visible country aesthetic. A free-standing range oven and a big butler's sink with brass or ceramic tap finishes give a rustic functionality impression. Your smart speakers, fridge freezer, and microwave can then be kept hidden.
Retro Kitchen
Is the 1960's pop-art vibe something that appeals to you? Or maybe you love the glamour of the 1920's art deco? Those are two excellent examples of prominent style eras that are the perfect basis for your retro kitchen aesthetic. A retro kitchen style will work best with statement features as well as clean and clear lines.